Atenda todos os clientes. E não apenas alguns.
Resolva até 90% dos pedidos de clientes automaticamente com o chatbot de IA. Elimine perguntas frequentes da sua linha de apoio e ofereça um serviço mais rápido e especializado aos seus clientes.
Agende uma demonstração de 20 minutos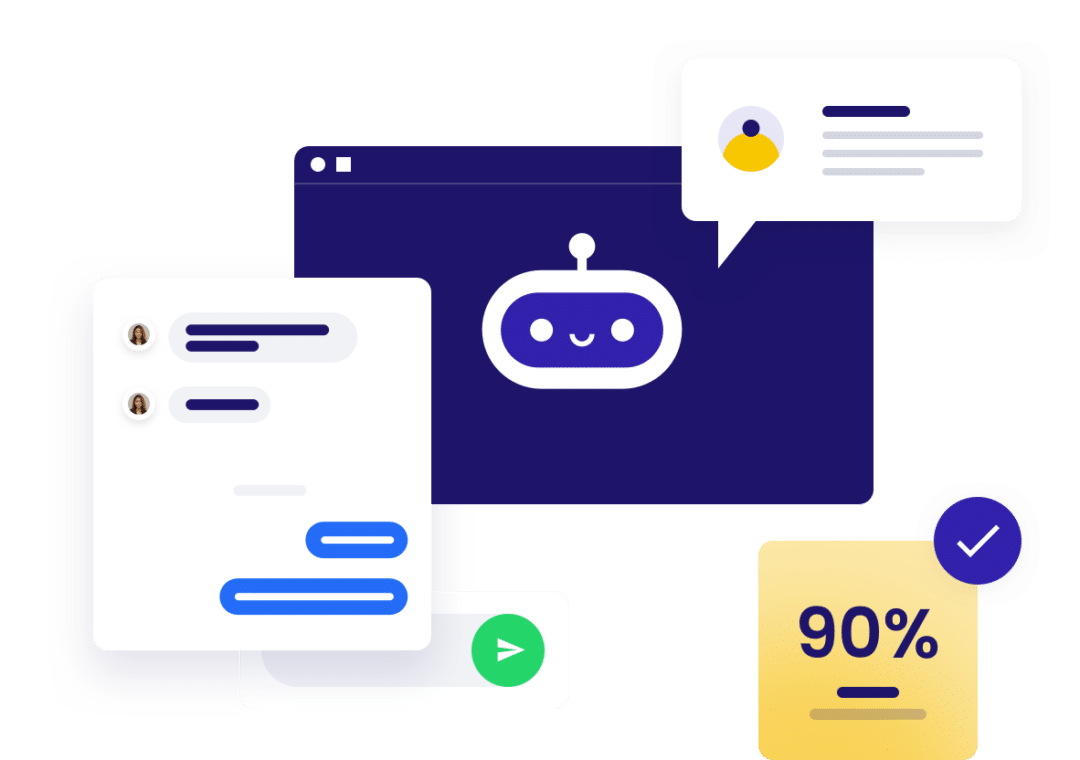 Um apoio ao cliente mais inteligente com os chatbots de inteligência artificial
Multiplique a produtividade
Poupe 330 horas por mês em serviço de apoio ao cliente. Ofereça tempo aos seus agentes para resolverem situações mais complexas e melhore a experiência dos seus clientes.
Encurte as filas
Diminua os tempos de resposta e de resolução. Elimine até 65% do tempo de espera dos clientes através do chat ao vivo.
Atenda 3x mais clientes
Os chatbots fornecem apoio 24 horas por dia, 7 dias por semana, com tempos de resposta imediatos. Ofereça mais respostas a mais clientes, durante todo o dia, todos os dias.
Agentes mais felizes
Reduza as interações aborrecidas e repetitivas, dando aos seus agentes um trabalho com mais significado.
h3>Transferir para um agente ao vivo sempre que necessário
Os agentes podem retomar a conversa com o cliente a partir de onde o chatbot terminou, com todas as informações da conversa exibidas no ecrã. Os agentes podem, ainda, visualizar o histórico das interações com o cliente de forma a poderem fornecer um apoio ainda mais personalizado.
Uma IA inteligente reconhece o que os clientes pretendem, mesmo com erros ortográficos
Recorrendo a uma IA personalizada que utiliza NLP e NLU para compreender as intenções dos clientes, o chatbot sugere perguntas para aprender as respetivas respostas na interface chatbot studio e assimila, de forma instantânea, sinónimos e partes de frases.
h3>Realize automaticamente ações tais como a atualização de subscrições
A automatização robotizada de processos significa que o chatbot de IA pode ser ligado aos seus outros sistemas, tais como inventário, dados de entrega ou CRM, e executar ações baseadas em conversas. Os clientes podem assim completar as tarefas comuns, tais como atualizações de entregas, sem a assistência de um agente.
Não requer competências técnicas
Construa o seu primeiro chatbot de IA após uma formação de 2 horas. Os agentes do apoio ao cliente podem manter a aprendizagem do chatbot através da interface chatbot studio, fácil de utilizar. Não é necessária a existência de um departamento de TI para essa tarefa – todo o trabalho técnico é realizado pelos engenheiros da LeadDesk.
Disponibilidade 24/7
no apoio ao cliente
330 horas poupadas
por mês
Tempo de espera dos clientes
65% mais curto
Todas as funcionalidades do chatbot

Tecnologia de IA

Conversational AI

Give customers human-like conversational flows with powerful contextual tools.

NLP & NLU

An AI chatbot that understands what your customers want with Natural Language Processing.

Gestão eficiente do chatbot

Learning Suggestions

LeadDesk's AI suggests new question-answer pairs to agents so the chatbot learns and grows.

Answer Suggestions

Chatbot offers agents with contextually relevant answers to free up their time even more.

Clustering

Identify and categorise frequent issues quickly and easily with AI-powered clustering.

Button Bot

Confirm customer intent or branch journeys with buttons in conversation.

Poupa tempo

Agent Transfer

Bring an agent into chatbot conversations when necessary.

Deflect Frequent Issues

Serve up to 90% of customer queries in chat automatically.

Reporting

Conversation Logs

Access past chatbot conversations to audit and develop your customer service further.

Chatbot Analytics

Measure performance and improve your chatbot in real-time.

Customer Feedback Collection

Get live feedback from your customers in chatbot conversations.

Outras integrações

Standalone Chatbot

No live chat? Use a standalone chatbot to automate questions on your website instead.

Advanced API

Connect and exchange information between your chatbot and other services.

CRM Integrations

LeadDesk Chatbots integrate with your CRM and customer databases.

Live Chat Integrations

Integrate a LeadDesk Chatbot into your existing customer service live chat.

Segurança/fiabilidade/conformidade

SOC 2 & ISO 27001 certified

LeadDesk is independently audited and certified for the highest standards of data security controls and practises in contact center services.

Secure and Encrypted

LeadDesk Chatbots use AES-256 bit encryption and transmissions are encrypted in-transit and at-rest with SSLv3.

GDPR Compliant

Fully compliant under General Data Protection Regulations.

Outro

Customisable Widget

Brand the chat window to your look and feel. Personalise widget's appearance, e.g. shape, colours, logo, fonts and buttons.

Expert Support

Dedicated customer success team available to make the most of your chatbot.

Supports 30+ Langauges

LeadDesk Chatbot available in your language.