Serve all your customers. Not just some.
Solve up to 90% of customer inquiries automatically with AI Chatbots. Eliminate frequently asked questions from your support queue and deliver faster, specialised service to customers.
Book a 20-min Demo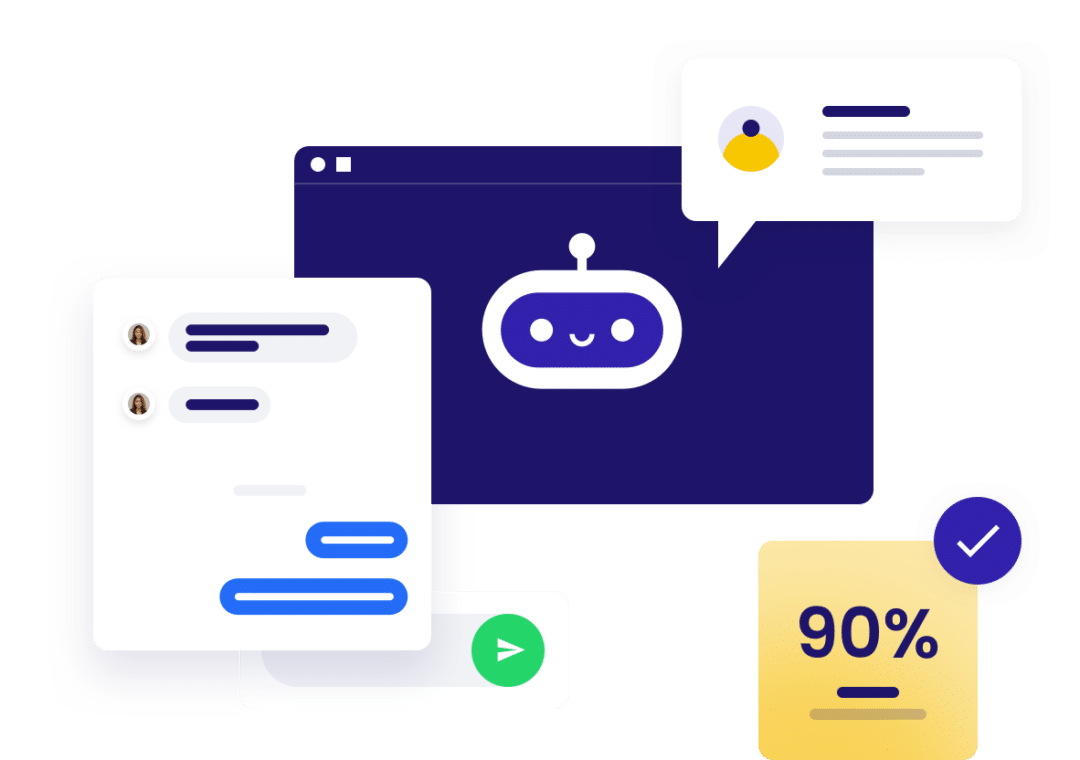 Smarter Customer Service with AI Chatbots
Multiply productivity
Save up to 330 hours each month in customer service. Give your agents time to resolve challenging customer situations and improve customer experience.
Slash queue length
Shrink first response and resolution times. Eliminate up to 65% of customer wait time in live chat.
Serve 3x more customers
Chatbots provide 24/7 support with instant response times. Give more customers more answers, all day, every day.
Happier agents
Cut down tedious repetitive interactions and empower your agents with more meaningful work.
Transfer to live agent when needed
Agents can pick up the customer conversation where the chatbot left with all conversation information on the screen. Plus, agents can see all historical customer interactions to provide even more personalized support.
Smart AI knows what you mean, even misspelled
Powered by a custom AI that utilizes NLP and NLU to understand customer intent. The chatbot suggests questions to learn answers to in the chatbot studio, and understands synonyms and related phrases out-of-the-box.
Perform actions like subscription updates automatically
Robotic process automation means the AI chatbot can connect to your other systems, like inventory, delivery data or CRM, and perform actions based on the conversation. Customers can complete common tasks, like delivery updates, without agent assistance.
Zero technical skills required
Build your first chatbot after a 2-hour training session. Customer service agents can maintain the chatbot knowledge using the simple chatbot studio interface. You don't need an IT department to maintain the chatbot – all technical work is done by LeadDesk engineers.
Helping Customer Service Teams around Europe
24/7 Availability
in customer service
330 Hours saved
per month
65% Shorter
customer wait times
All Chatbot features

AI Powered

Conversational AI

Give customers human-like conversational flows with powerful contextual tools.

NLP & NLU

An AI chatbot that understands what your customers want with Natural Language Processing.

Effective chatbot management

Learning Suggestions

LeadDesk's AI suggests new question-answer pairs to agents so the chatbot learns and grows.

Answer Suggestions

Chatbot offers agents with contextually relevant answers to free up their time even more.

Clustering

Identify and categorise frequent issues quickly and easily with AI-powered clustering.

Button Bot

Confirm customer intent or branch journeys with buttons in conversation.

Saves time

Agent Transfer

Bring an agent into chatbot conversations when necessary.

Deflect Frequent Issues

Serve up to 90% of customer queries in chat automatically.

Reporting

Conversation Logs

Access past chatbot conversations to audit and develop your customer service further.

Chatbot Analytics

Measure performance and improve your chatbot in real-time.

Customer Feedback Collection

Get live feedback from your customers in chatbot conversations.

Other integrations

Standalone Chatbot

No live chat? Use a standalone chatbot to automate questions on your website instead.

Advanced API

Connect and exchange information between your chatbot and other services.

CRM Integrations

LeadDesk Chatbots integrate with your CRM and customer databases.

Live Chat Integrations

Integrate a LeadDesk Chatbot into your existing customer service live chat.

Security / Reliability / Compliancy

SOC 2 & ISO 27001 certified

LeadDesk is independently audited and certified for the highest standards of data security controls and practises in contact center services.

Secure and Encrypted

LeadDesk Chatbots use AES-256 bit encryption and transmissions are encrypted in-transit and at-rest with SSLv3.

GDPR Compliant

Fully compliant under General Data Protection Regulations.

Other

Customisable Widget

Brand the chat window to your look and feel. Personalise widget's appearance, e.g. shape, colours, logo, fonts and buttons.

Expert Support

Dedicated customer success team available to make the most of your chatbot.

Supports 30+ Langauges

LeadDesk Chatbot available in your language.