Close more leads in any channel
Give your agents a seamless and efficient user experience for closing more leads. LeadDesk's omni-channel inbound software also provides you with thorough reports.
Book a demo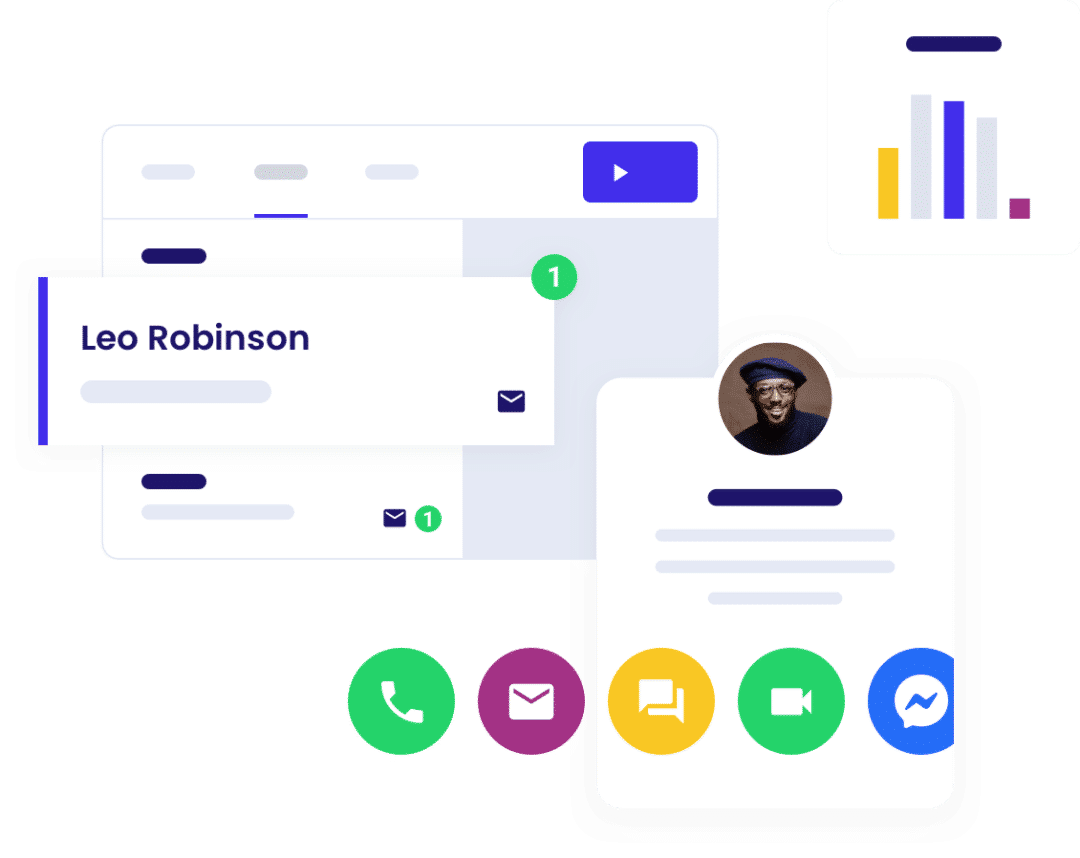 LeadDesk makes inbound sales smoother and smarter
Offer your customers a smooth experience in every touch point with our efficient sofware. You can easily distribute calls and emails to the right agent based on Interactive Voice Response (IVR) or agent skills. You can even use caller information by integrating LeadDesk with the data in your CRM
Book a demo
Calls, emails, SMS, chats
Collect all inbound contacts in the same queues to effectively prioritize your agents work.
Intelligent blending
Blend inbound and outbound calls seamlessly to agents to improve their productivity.
Powerful monitoring and reporting
Stay on top of your business with call monitoring, live dashboards and compelling reporting tools.
Case study
Case study: Kinderhilfe Eckental
Data migration can make contact center switching difficult. Read how Kinderhilfe Eckental imported their customer data into LeadDesk's modern solution.
Read full case study
See all case studies
Full list of inbound sales features

Omnichannel

Change channel

Change channel at any point. Got an e-mail? Call them back.

Single contact card for all channels

Have all your customer interactions from different channels in one contact card.

Natively omnichannel

Calls, emails, sms, webchat, and messaging apps - all in one place.

Effective contact management

Customizable call ending reasons

Choose from pre-set call ending reasons or create your own.

Contact history

Display customer interactions, information and comments in the agent or admin menu.

Custom tags

Organize, Search and Label your contacts with custom tags

Custom fields

Edit the contact card with our customizable fields.

Quality management

Speech-to-text (STT)

Connect to industry-leading STT providers with our API

Call recording

Record entire calls or just the voice receipt.

Call monitoring

Use call recordings, or listen to agent call live, to coach agents and guarantee that your quality standards are met.

Easy call forwarding

No answer call forwarding

Make sure the customer gets a hold of someone, by forwarding your calls when agents are busy.

Ring groups

With our flexible ring groups, you can easily ring several agents at one time, or in a specific order.

Forward-to-phone

Forward your calls to mobile, to make sure a call never goes unanswered.

Intelligent distribution

Multichannel routing

Messages from all channels will be combined and directed to the agent handling the customer.

Call queues

Build your own queues and messages.

Skills-based routing

Increase your caller satisfaction and first-call-resolution, by matching the caller to the agent with the required skill set.

Intelligent call and message distribution

Make sure the customer speaks with the right agent based on agent skills, your IVR or caller information.

Advanced IVR Management

Easily route your call to the right agent with our flexible IVR.

Rich dialing features

Automatic call-back

Never miss a call back again. In LeadDesk you can automatically add call backs after each call.

Call summary notes

Let your agents make and view notes about your prospects.

Inbound Call Blending

Blend inbound and outbound calls seamlessly to the agent, regulating outbound call volume based on inbound traffic.

Reporting

Save and access favourite reports

Easily save and access your favourite reports, without having to recreate all over again.

Build custom reports

Build your own reports by filtering by campaigns, offices, products, queues, etc.

Prebuilt reports

Use our pre-built reports to easily get statistics about your contact lists, agents or channels.

Live dashboard

Customize your dashboard with a large set of pre-defined widgets and real-time stats.

Security / Reliability / Compliancy

SOC 2 & ISO 27001 certified

LeadDesk is independently audited and certified for the highest standards of data security controls and practises in contact center services.

SSL encryption

The SSL encryption ensures that all data passed between the web server and browsers remain private and intact.

Locally compliant

Compliant with local regulations

Reliable hosting

Our wide network of hosts, in several EU countries, ensure high uptime and security.

Local data storage

All our data is stored in the EU, according to EU and GDPR requirements and safety standards.

Custom permissions for teams and roles

Configure dashboards or limit access based on team role or office or IP.

Other

Advanced API

Use our API to customise LeadDesk to do whatever your business needs.

Useful shortcuts

Use predefined short keys or create your own shortcuts to easily access information or set call results.

Set business hours

Easily configure and edit your business hours to suite your needs.

Enhanced caller information

Integrate your CRM with LeadDesk to access customer information, before you answer the call.

Easy to use holiday configuration

Set your holiday opening hours and easily edit them months in advance.