Everything you need to know about contact center dialer modes
The type of campaign you are running, the length of your sales cycle, and the size of your team are key to providing context for your choice of a dialer. When it comes to how you handle and interpret your data, it is important to consider the source and quality of your leads. Learn more on the differences between dialer modes in this blogpost.
schedule14 minute read
The type of campaign you are running, the length of your sales cycle, and the size of your team are key to providing context for your choice of a dialer. When it comes to how you handle and interpret your data, it is important to consider the source and quality of your leads. You also need to be able to rapidly analyze your call data. The best solutions give you real-time visualizations of your key metrics so you can fine-tune your campaign and change dialer-mode if appropriate.
You can now download the full guide on dialer modes in PDF – click here.
Why do you want to use a dialer?
Today's sophisticated dialers can not only help you increase efficiency in contact centers but also reduce costs. Furthermore, dialers are nowadays not only for contact centers but also business-critical tools for sales teams wanting to take call-efficiency to the next level. Vitamail, for example, took their efficiency to a new level with a sophisticated dialer. When considering the benefits beyond this and thinking what a dialer can do for your business; the essence is the ability to control the output. By standardizing the work for agents and controlling workflows, your contact center can better control the expected outcome. At the same time, a dialer lets you reduce manual input and increase call volumes, leading to increased efficiency and closing more sales.
Preview (Semi-automatic) dialer
Preview, or sometimes referred to as semi-automatic, is probably the most used dialing mode in contact centers in more complex cases. As the name hints, the agent can preview the customer details before engaging in a call. After looking at the case, the agent can then manually take the call whenever he/she feels ready.
When to use?
There are a few specific cases where you should use the Preview dialing mode. For example, in complex customer cases, an agent might need to review the information before starting the call to get the best chance of closing.
Also inside sales and customer follow-ups can get a lot out of the preview mode for more precision in sales.
However, consider your dataset. If your dataset only includes a name and a phone number, you don't gain any advantages of a preview dialer (unless you know the customers by name, e.g. contacting celebrities for a fundraiser).
Pros and cons?
Pros:
The agent can read information beforehand to be fully aware of the customer in question
Cons:
Agents might spend a lot of time reviewing each case before calling, which leads to inefficiency.
How many agents?
A team of any size can use preview calling.
Lead Quality?
Usually, the leads called in preview mode are medium to high quality or follow-ups to existing customers.
Lead Sources?
Typically, a paid or client's list.
Call duration?
Suitable for any call durations, however seldom short calls.
---
Progressive (Automatic) dialer
Looking for a solution that increases agent efficiency, but removes the risk of abandoned or silent calls? The progressive or automatic dialer (sometimes even wrongly called Power dialer), is built to work so that as soon as the agent finishes the last call, the next contact in the list is being called. There is a noticeable difference compared to e.g. predictive dialer, where machines estimate when calls are ending and have a contact already waiting for an agent.
We sometimes associate progressive dialing with too many dead lines and voicemail, causing less talk time/hour. But, that's not the fault of the dialer mode. Dead lines and voicemail suggest you need better leads, better background list management, and built-in answering machine detection.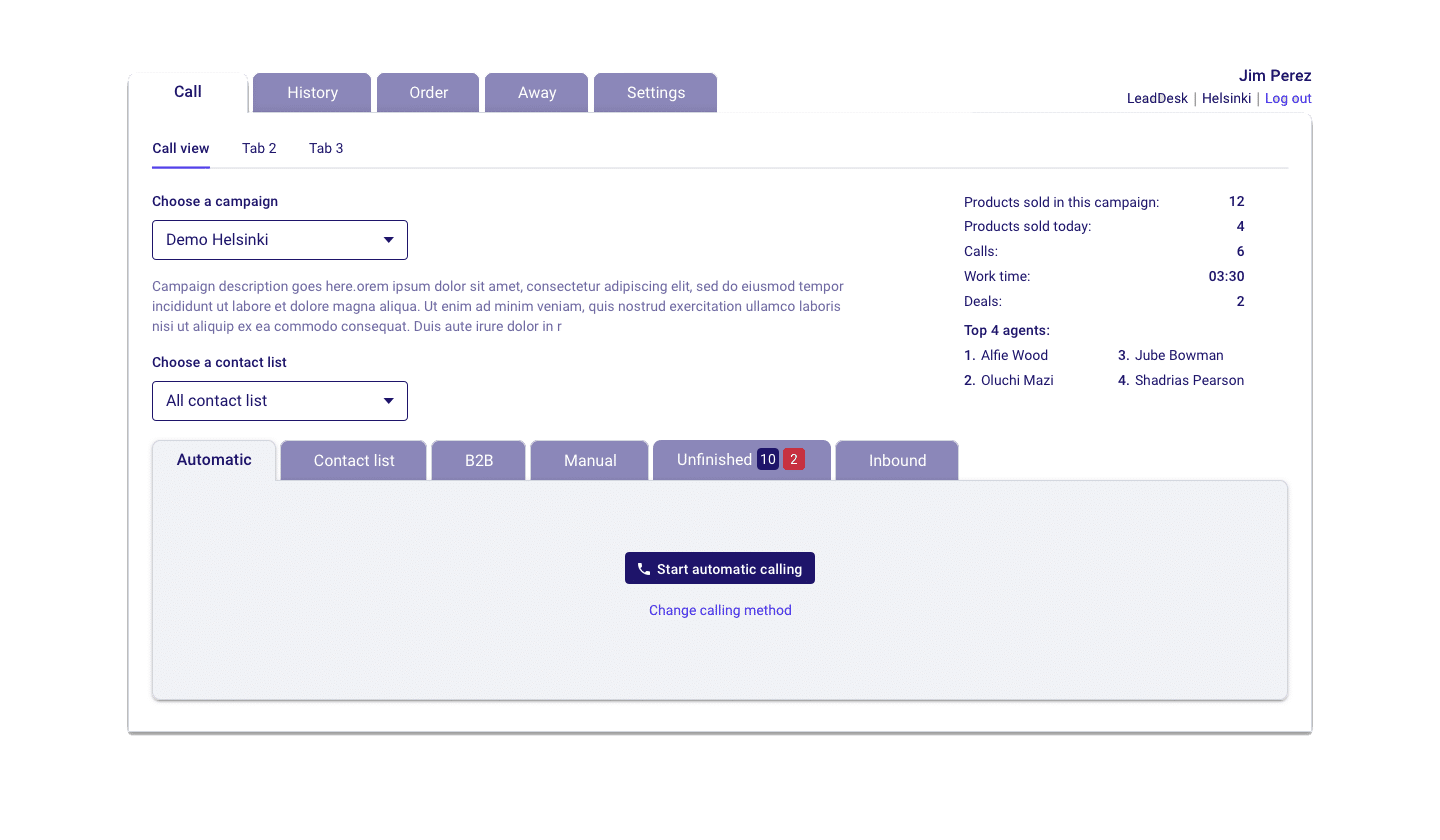 When to use?
The progressive dialer is especially beneficial when you want to maximize efficiency in e.g. a campaign towards current customers. For example renew or upsell campaigns, where the agents still have a short moment to see the contact information before the customer answers.
Progressive dialing is ideal when you have a motivated team and gamify the work, from big screen leaderboards through to in-window updates and personalized agent announcements.
Pros and cons?
Pros:
The agent gets a call automatically when the previous one ends, increasing efficiency
The agent still has a short moment to preview contact information
Cons:
Each call needs to dial and then rings for roughly 20 seconds, so in quiet hours the efficiency might not be the highest.
How many agents?
A team of any size can use automatic dialing.
Lead Quality?
Usually, the leads called in automatic mode are medium to high quality or campaigns toward current customers.
Lead Sources?
Typically, a paid or client's list.
Call duration?
Suitable for any call durations.
Learn more about LeadDesk Automatic Dialer – the go-t0 dialer for small teams.
---
Power Dialer
Sometimes, power dialing is used as a catchall term for all automated dialing and confused with e.g. progressive dialing. Don't be fooled though, in multi-mode systems this is not the case and power dialing is specifically automatic dialing where there are always more active calls than agents.
Some power dialers work just by selecting a basic calls-to-agent ratio, which you can speed up or down by simply adjusting the ratio. Intelligent power diallers can even combine ring time to calculate call intensity. Power dialing is good when you have a smaller team and average call duration is long.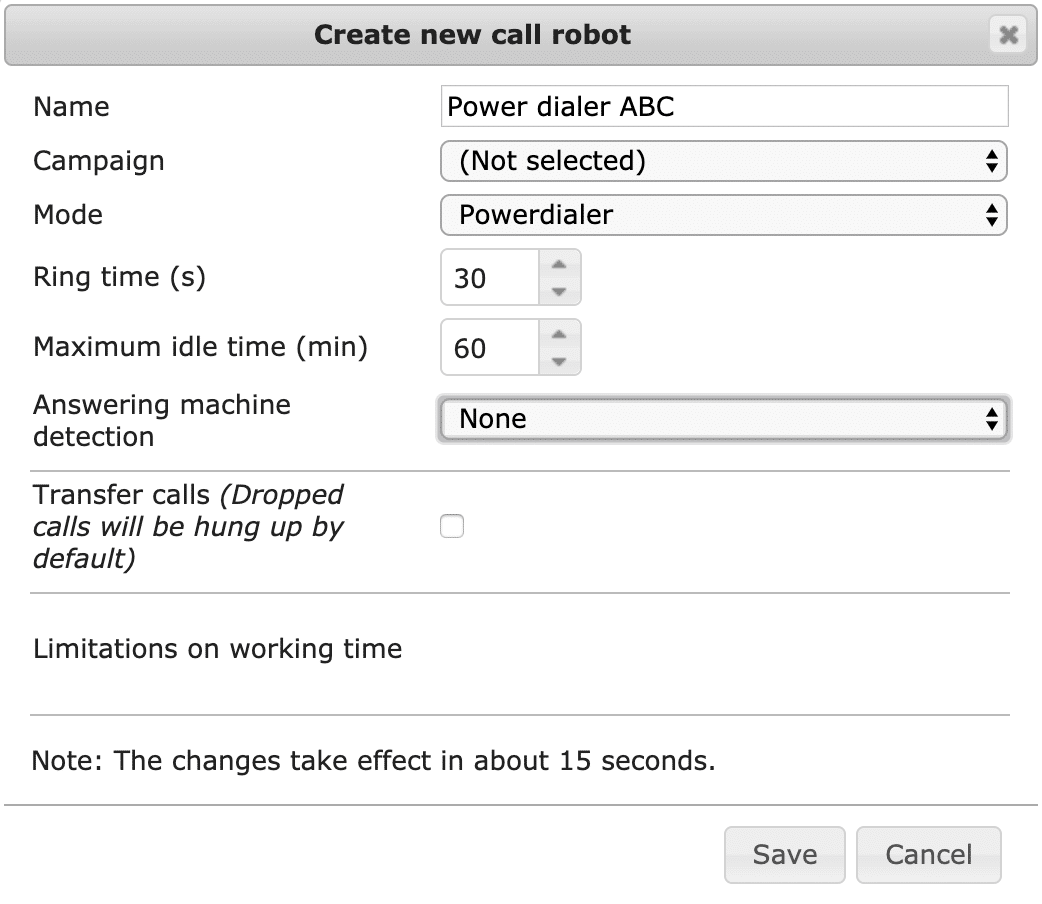 When to use?
Power dialing usually yields the best results when you have a smaller team with a large list of warmed up leads you want to dive into.
Pros and cons?
Pros:
Increases efficiency while removing most of the possible automation issues e.g. failure of call prediction or voicemail detection
Dialler speed can be altered by adjusting the calls-to-agent ratio
Cons:
Efficiency lower than e.g. Predictive dialer
How many agents?
A team of any size can use power dialing.
Lead Quality?
Usually, the leads called with the Power dialing mode are medium to high quality.
Lead Sources?
Typically, a paid or client's list.
Call duration?
Best for longer calls, 2 mins+
Learn more about LeadDesk's Power dialer.
---
Predictive Dialer
When you have a larger team and short call duration, predictive dialing can make your hit rate rocket. As an agent, one of your biggest bottlenecks is most likely getting someone on the phone. The predictive dialer calls numbers on its own, can check for voicemails and will only transfer a phone call to you once the potential customer picks up, saving you valuable time.
The core is an algorithm that calculates when the next contacts should be dialed. This algorithm continuously monitors activity to optimize the dialing rate accordingly. What this means is that the agent will always have someone on the line once the last call has ended.
Many predictive dialers let you choose drop rates e.g. 0,5-10% to abide by country-specific regulations. Some predictive dialers also have special modes available that set a higher aggressiveness and ignores dropouts completely. Even the best predictive dialers will receive a small percentage of dropped calls, i.e. when there are no agents free to take the calls. With some dialers, you can decrease this by e.g. transferring the call to an announcement or IVR.
It's worth noting here that predictive dialing is highly regulated in some countries and you should always know the local legislation to ensure that these are met. For example, in the UK and US, the abandonment rate may not exceed 3% for any 24 h respectively 30-day period.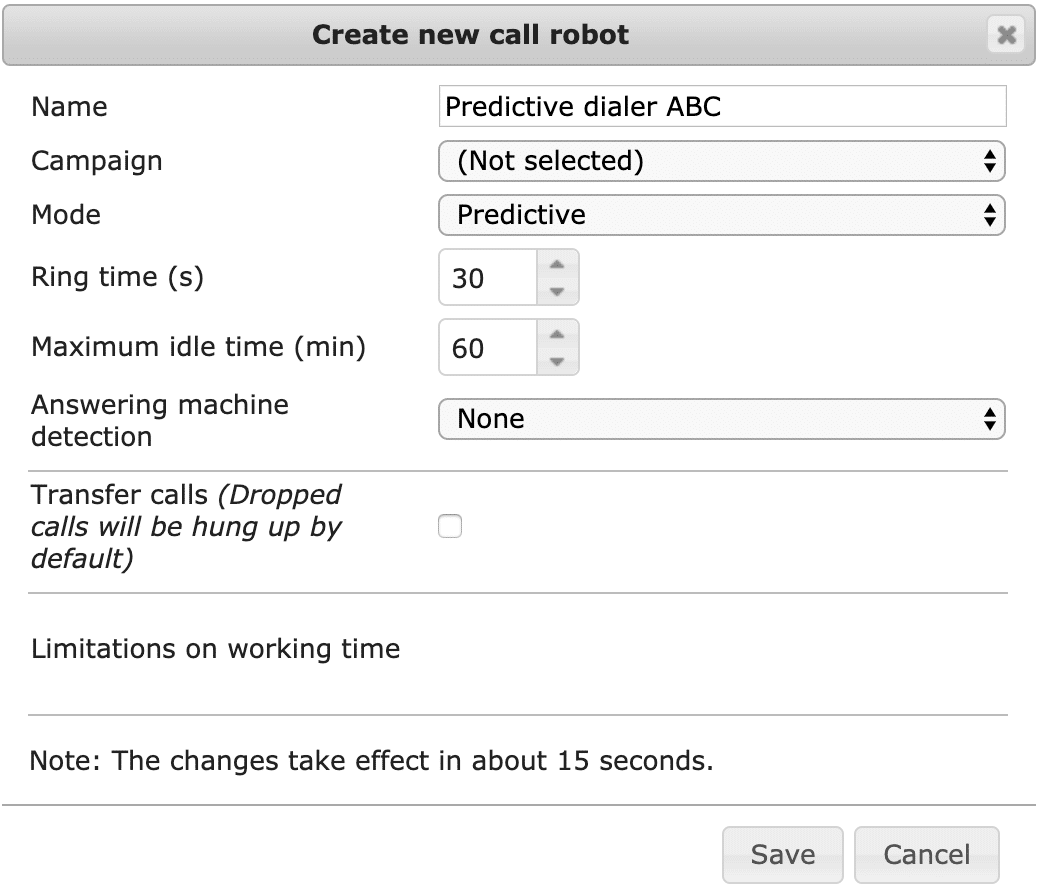 When to use?
Predictive dialing is most effective in campaigns that are fairly straightforward such as commodity product sales and you have a massive list to call through.
Pros and cons?
Pros:
Speed through large contact lists
Agent productivity up to 80-90%
Cons:
There is a risk of "abandoned calls", where there are live calls, but all agents are busy.
Also, even the best answering machine detectors might yield false positives, thus dropping a call even though there is someone on the line.
How many agents?
Typically, predictive dialers only work for teams of 20 agents or more. If you have fewer than 20 agents, then you need a predictive dialer that is optimized for small teams. There is at least one predictive dialer on the market that works for teams as small as seven agents.
Lead Quality?
Usually leads in Predictive dialer campaigns are low to medium quality. Quantity over quality.
Lead Sources?
Typically, a paid or client's list.
Call duration?
Best suitable for shorter calls
Learn more about LeadDesk's Predictive dialer.
---
Power IVR
Outbound IVR is ideal with existing customers and excels where you want to take the burden away from your agents so they can focus on closing deals. Call centers of the future will use big data analytics and more outbound IVR to identify and trigger transaction opportunities without being spammy.
Due to the spam aspect, many countries prohibit Outbound IVR. However, legitimate compliant outbound IVR is growing. Outbound IVR has been used especially for political campaigns, where a large number of voters have been contacted. Some other fully legit use cases for high-volume Power IVR are e.g. public service or emergency announcements, where a large group of people has to be quickly informed.
You should talk to a local outbound expert to understand your country's regulations on outbound IVR and the implications of the European GDPR privacy directive.
When to use?
Power IVR comes in handy when for example you are reminding current customers about overdue payments, or for public sectors reaching out to a large group of people during emergencies.
Pros and cons?
Pros:
The machine takes care of calling and lets your agents focus on closing deals.
Cons:
Hearing prerecorded messages can annoy people.
We can't stress this enough: Highly regulated and even prohibited in many countries.
How many agents?
Not applicable
Lead Quality?
Very high (e.g. explicit permission)
Lead Sources?
Mainly used for existing customers (if legislation allows)
Call duration?
IVR menu-based
---
Account-based dialer
Calling organizations with several decision-makers? Let agents know exactly what is going on, to get most out of the calls and bring the lead closer to closing. You don't need a separate CRM for this if you have the right dialer. And the right dialer will give you real-time call monitoring and reporting that will help you get the best out of every call. Account dialing, used together with agent skill assignment, meeting booking tools, and call center-grade data insight, makes every call productive and shortens B2B sales cycles.
When to use?
In B2B contexts with long sales cycles, meeting bookings. Especially when you need transparency. Everyone in the team needs to be able to cross-reference the latest call notes, callbacks and meeting arrangements, to get the customer down the funnel.
Pros and cons?
Pros:
Every agent has a clear view of calls made to a specific company, especially if there are several decision-makers.
Cons:
Agents might spend a lot of time reviewing each case before calling, which leads to inefficiency.
How many agents?
A team of any size can use account dialing.
Lead Quality?
High
Lead Sources?
Typically, leads are researched earlier or then a paid list is used
Call duration?
Mainly used for longer calls.
---
List Calling
In its simplicity, list dialing is seeing the contact list in advance and choosing which contact to dial. However, if you just call the next contact on your list you are losing sales. The next generation of dialer solutions gives you smart list automation, intelligent prioritization, plus advanced search and filters that help super agents work like lightning.
Of course, your lists should be easily imported, processed and managed. You should also have the option to sync directly with your client's lists, especially in multi-partner outsourcing.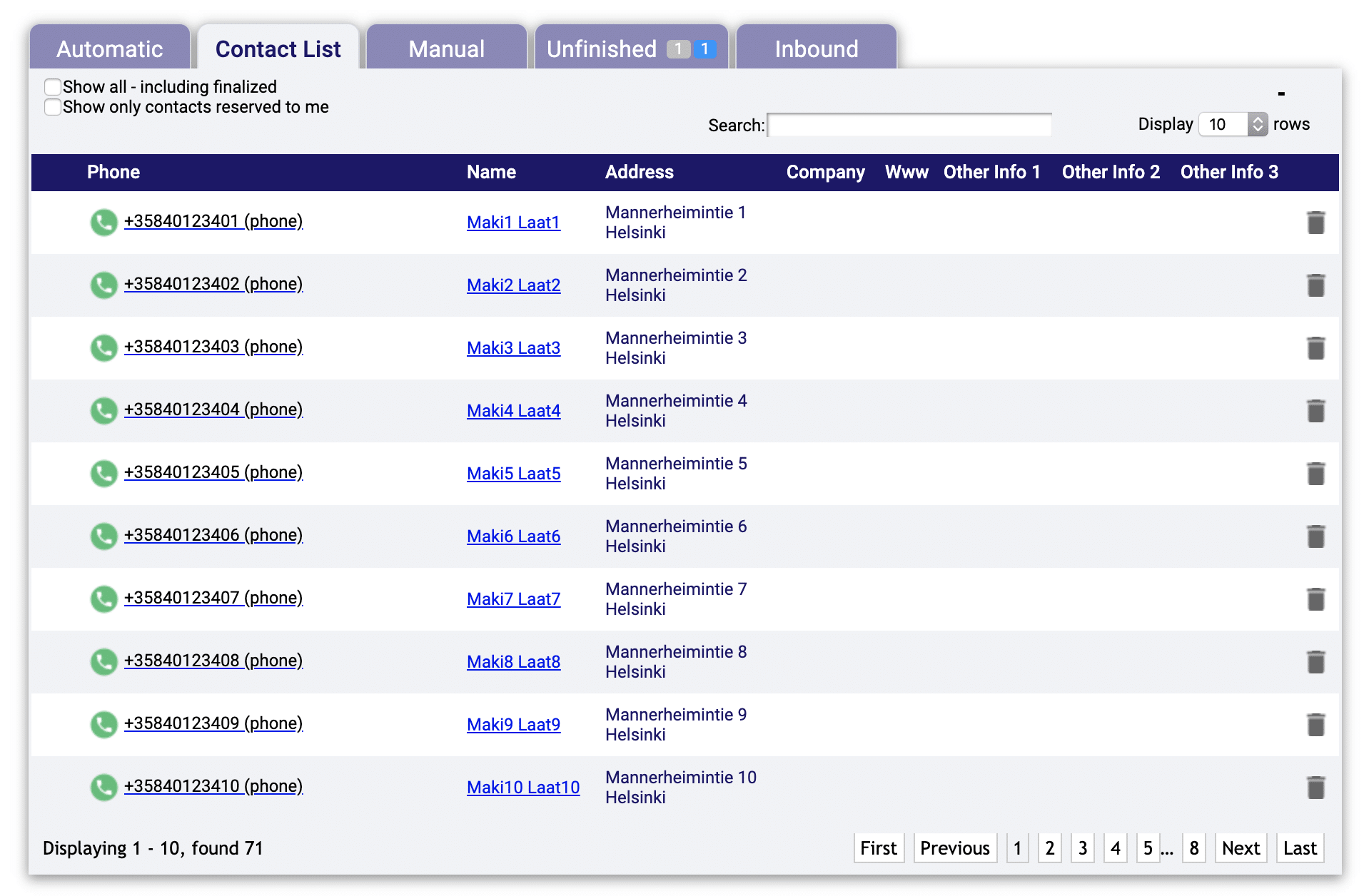 When to use?
Consider a type of switchboard scenario, where the customer is the middle point of providing a service that doesn't require you to "finish" a list. Other use cases could be when prioritizing date, time or other values from databases and spreadsheets.
How many agents?
List dialing can be used by any number of
Lead Quality?
Ideally, high quality if paid or researched.
Lead Sources?
Spreadsheets or databases.
Call duration?
Suitable for any call durations.
---
Keypad / Manual
This was the start of the contact center industry. Manual dialing is as basic as it gets. An agent can type in the desired number, and the dialer will start calling. Think of landlines, but using VoIP. Needless to say, this is the last resort for contact centers and in terms of efficiency, it ranks right in the bottom.
When to use?
There aren't many use cases that warrant the use of a keypad, but if e.g. you got a business card during a meeting or trade show, manual dialing might be a good choice. With smart contact center software, you can add additional information beyond just the phone number. If you have a big collection of business cards, you will get faster results working with a spreadsheet.
Another beneficial use-case could be when agents do scouting to increase the data pool. The best contact center software let you use the keypad to either call or add new contacts directly into the system. Also consider keypad for various switchboard services, where agents are asked to reach out to a new client but don't know the customer yet.
Pros and cons?
Pros:
Agents can use cheap and high-quality VoIP for calls to any number
Cons:
The least efficient dialing mode
Can cause miss-dials by entering the wrong number
How many agents?
Solo
Lead Quality?
Usually, the leads called manually are of high quality.
Lead Sources?
Misc. non-automatable sources.
Call duration?
Suitable for any call durations
---
Click-to-call
Click-to-call refers to a dialer that can scrape numbers from webpages, spreadsheets or CRM systems. Click-to-call is good for this. However, advanced click-to-call dialers can manage your call data well beyond basic callback scheduling. They can provide order management, call routing and call monitoring for team leaders and managers.
Some click-to-call dialers work in parallel with fully-featured auto-dialing and allow you to switch to and from click-to-call. If you are using basic click-to-call with spreadsheets or websites then you are missing out on sales — and you should talk to an expert about dialer software and CRM integration.
When to use?
Click-to-call is great when you are working alone or in a small team and want to use cheap VoIP to call customers directly from their website.
Another great use case is for calling directly from your CRM system. You won't get the efficiency that other dialer modes give, however calling through VoIP is faster and cheaper than manually dialing through a mobile phone.
Pros and cons?
Pros:
One-click dialing from your CRM, excel sheets or websites when you are dialing low volume.
Cons:
In terms of efficiency, click-to-call is one of the most ineffective dialing modes
How many agents?
Solo
Lead Quality?
Ranging from low to high depending on the source.
Lead Sources?
Websites, CRMs, Excel sheets
Call duration?
Suitable for any call durations
Learn more about LeadDesk's Click-to-Call dialer.
---
Virtual
Virtual calls enable agents to log face-to-face conversations into the system so that the lead can be followed up and the data monitored and reported. Virtual calls and similar solutions enable you to track deals made by field workers with iPads at events and meetings.
The most efficient virtual call solutions enable field agents to rapidly input offline data directly into the system with their smartphone or tablet. Mobile apps enable field agents and outbound call center agents to work rapidly together. This can be highly effective around multi-touch corporate events.
When to use?
Virtual calls are especially helpful when you want to log information on a contact and have integrated between your dialer and CRM to sync the details in between.
Pros and cons?
Pros:
Lets you document offline conversations into the system
Cons:
–
How many agents?
Solo
Lead Quality?
Any
Lead Sources?
Face to face, events, retail, hard copy
Call duration?
Not applicable
---
Manual or Automatic
As seen, we can categorize dialer modes into manual and automatic modes. Manual modes always require the agent to start the call, while in automatic modes the machine is constantly ringing new numbers as long as switched on. Some initial questions that might help you consider different scenarios:
Quantity or quality?
Do you have enough data to warrant a non-automatic call mode (more than a name and phone number)?
Is your script flexible enough for any scenario?
Are your agents experienced enough to choose their tactics? Or should you force them to use a specific mode to standardize the call process?
Which is better for you?
This is the tough part, as both manual and automatic have their place. As the price of contacts is going up, there will always be a trade-off. A question you should ask yourself; are you pushing for agent efficiency or contact efficiency? On the one hand, you usually want your agents to be as much on the phone as possible, seeing as that is their specialty. On the other hand, you want to cherish the contacts on your list and make sure don't throw away high-quality contacts. Even worse, calling multiple times in a short period might even lead to the block of that number and your outbound number to be marked as spam. In the end, it comes down to contact list volume, lead quality, the case, and your business.
A software with some modes or all modes?
Most dialers and contact center software offer one or a few different dialer modes to choose from. As discussed above, there are use cases for both manual and automatic modes and even further for each of the respective subcategories. Depending on your business, only having access to some modes might be enough. However, limiting yourself to a software that doesn't give you the possibility for all modes might hurt you in the long run when expanding services or taking on new sponsors.
Learn more in our Dialer Modes Guide
Should I use answer machine detection?
The best contact center software come with answer machine detection to improve efficiency. Especially in high-volume calling, detecting when there is a person on the line is vital to ensure that non-relevant calls are not transferred to agents. We can roughly divide answer machine detection technology into two; technical and machine learning implementations. The main difference between these is that the technical side restricts you to pre-defined rules of what an answering machine sounds like. These might be e.g. signal based or voice-based. With the help of machine learning, the algorithm starts with pre-defined rules, but with time and data, the detection becomes better and better, yielding in less false positives.
Summary
Now you have a basic understanding of what the different dialing modes are when to use them, and their pros and cons. When choosing a contact center software, make sure they offer the dialing modes you need for your company. Also, why choose a solution with one or a few dialer modes, when you can choose a software that has all of them? Thus scaling easily with your business and different campaigns.
Why not try the different modes for yourself and see you can take efficiency to a new level?
Test LeadDesk for free for 30-days.
Free Trial