Artificial Intelligence in Contact Centers: How to Use it (And Why)
Learn how to use AI in your contact center to serve customers faster, and still make them feel valued.
schedule8 minute read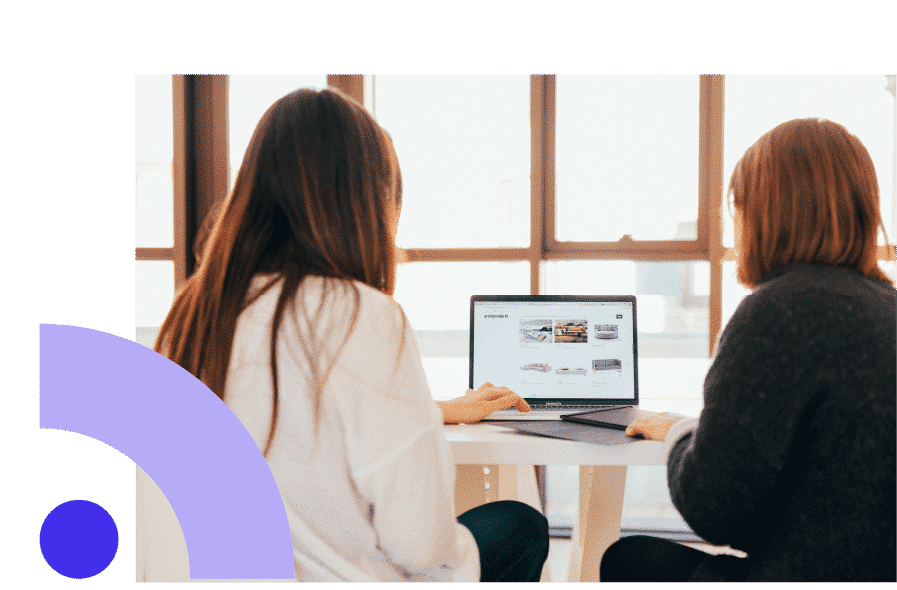 For six years, Stanford University has been benchmarking AI vs. Human performance in their AI Index report.
One benchmark, SuperGLUE, stands out: how well an AI model can understand and logically deduce correct answers from abstract sentences.
In 2019, humans outperformed AI by 9 percentage points. In the 2023 report, an AI model outperformed humans by 1.5 percentage points.
How to Use AI in Your Contact Center – A Summary (TL;DR)
With AI models becoming more and more sophisticated (we've started giving them the LSATs as a benchmark now), it only makes sense to apply their benefits to help customers and save time at work.
In this article, we'll go through practical examples to use AI in your contact center operations to improve customer service and sales. We'll cover 6 total AI applications under 3 distinct benefits to your contact center operations:
Slash Wait Time in Customer Service with AI for Contact Centers
Waiting for an agent to answer sucks.
In fact, it can be a driver on whether customers stay with your brand. Forrester reported in 2021 that customers are 2.4x times more likely to stay with companies that solve customer problems quickly. Data from Zendesk agrees — speedy issue resolution is rated the most important aspect of good customer service, while long hold/wait times is the most frustrating factor of bad customer service.
When AI is used well, it is in a fantastic position to help customer service teams significantly improve customer service quality by reducing, or even eliminating, wait times.
Eliminate frequently asked questions from Agent Workload
Frequently asked questions account for 60-90% of your everyday customer interactions.
That means your agents are answering the same questions again, and again, and again. It's not only a time suck, it's also incredibly boring and can seriously affect your agents productivity at work.
About 68% of agents report feeling overwhelmed in customer service according to Zendesk's CX Trends report. Not only would deflecting frequent issues help agents perform their best, it would also drastically reduce customer wait time — a large contributor of customer satisfaction.
AI chatbots excel at deflecting common issues away from your agent's workload while simultaneously slashing wait time in customer service. It's like hiring an entire additional customer service team as a backup at a fraction of the cost.
For example, when using LeadDesk's AI chatbot, Finnkino reduced their live chat wait time from 104 seconds to 33 seconds. Customers were able to connect to a service agent 65% faster, thanks to the chatbot.
Agents were also less overwhelmed, dealing with 62% fewer conversations.
Over at Varma, AI chatbots allowed two service agents to move to other positions because of reduced agent workload in customer service chat. The two-year study saw a deflection of 85% of customer conversations from agents thanks to AI Chatbot automation.
[Learn more about LeadDesk's AI Chatbot solution.]
Direct customers to the right agent the first time with AI Skills-based Routing
Customers want help now. Immediate responses with the right answer is valued among 90% of your customers, according to Hubspot Research. And for a third of your customers, repeating their issue to multiple agents is the most frustrating customer service interaction they can have with your company.
Skills-based routing is not so new. But it's also a bit frustrating to dial 1 for this language, or dial 5 for invoicing. This wastes your customer's time.
AI Skills-based Routing takes your customer service to a whole other level.
No more questionnaires, option boxes, dialling numbers, navigating through complex decision trees until your reach the perfect customer service agent for your answer.
AI Skills-based Routing analyses the context of your customer's question and matches it with the most suitable agent to give an answer.
For example, if our customer asks a question about their invoicing, in Spanish, to your AI frontline support it will detect these contexts, search for the most suitable available agent, and connect them — even if your customer happens to be on your Swedish-language website.
Stop Agent Turnover and Start Investing in Expert Agents
Contact center work has a bad reputation. Constant calls, senselessly simple questions, rude customers. With reported average employee attrition rates of 24% (UK) to 33% (US) in 2022, it's crucial to improve agent experience to reduce agent churn. When contact centers fail to respond to rising employee turnover, they risk:
higher recruitment and training costs
too many inexperienced/learning agents on their staff
reduced morale on remaining staff plus increased pressure on team leaders and experienced agents
Since the introduction of AI in contact centers, we have seen a shift in the nature of agent work, especially in first-line customer service. AI chatbots and smart call routing have managed to deflect frequent and simple inquiries away from agents. Now, agents get to deal with more complex customer situations instead of answering the same tired questions again, and again.
Now that we are using AI to filter out the repetitive questions, it's time to focus on how we can support agents in their work. Generative AI can help speed up agent and customer interactions without sacrificing service quality. In some cases, it may even improve service quality, as well as speeding up resolution times.
Save agent typing time with Automatic Response Generation
Pre-made templates are nothing new when it comes to customer service or sales. Generally, you might have a handful of templates to cover the most common situations in your customer interactions.
But what about all those emails agents have to type out manually? They must have a beginning, middle and end, and they should conform to your brand style as well as communicate the solution respectfully and succinctly to your customer.
Do your agents always have time to craft a thoughtful and informative response to every customer? What if they just described the solution and clicked a button?
Generative AI can use the agent's shorthand input and craft the perfect customer email every time, ensuring your agents save time, and your customers still feel like they're valued.
[Are you looking to speed up your customer communications without sacrificing quality? Join the AI waitlist.]
Answer customer questions (even more) rapidly in Live Chat with AI Assistant
Using an AI chatbot will normally deflect about 60-90% of your chat messages from Live Chat, so there are still questions you want your Live Chat agents to answer. But even these questions can be answered more rapidly.
Enter your Live Chat AI Assistant.
As agents get the more complex questions to their Live Chat queue, their AI Assistant compares these questions with its vast knowledge of your company and products. It then comes up with suggested answers, ready-typed, for the agent in a side window.
These suggested answers can be modified before sending to the customer, so the agent can add their own expertise, or adapt the answer to the situation.
Agents spend less time looking for answers and customers get the solutions they need quickly.
Needless to say, but this AI Assistant works on email, form submissions, and even on voice calls, thanks to AI speech recognition.
Well-timed Sales Personalisation Without the Creepy Factor
Over 75% of customers will purchase from, recommend, and buy again from companies who offer personalised experience, according to McKinsey. This indicates that whatever part of the customer lifecycle you're focusing on, targeting your customers with personalisation is clearly a must-have.
However, there is a fine line between personalisation and creepiness. As Zendesk's report on personalised customer service explains, personalisation is appreciated by customers when your efforts are well-timed and appropriate.
Here's a few examples on how AI in contact centers can help you personalise and improve customer service without freaking customers out.
Auto-detect and exploit relevant sales opportunities at the right time with AI Product Suggestions
It's ever more common to see "Customers also bought" and "Related Items" at the bottom of your eCommerce product page. In some cases, these associations are painfully and manually paired with related items in the database. And in other cases, the recommendations seem so random and off-topic, it could take away from your customer's experience.
Bringing the latest AI into contact center software can change all this. Let your AI Product Suggestion engine scan your product database and built associations between your products automatically. Then you can even start using AI-sourced product recommendations in one-to-one customer communication.
Whether it's a chatbot, live chat, or email, you can give each of your customers the personal shopper experience. Instead of pairing everything manually, or relying on an outdated product sheet, your AI assistant can pick out products for your agents to offer which are relevant and useful to your customer's shopping experience.
For example, if a customer is buying a battery alarm clock, the AI Product Suggestions will offer the correct batteries, or even a range of battery options (rechargeable vs. disposable).
In customer service especially, AI Product Suggestions could scan customer history, and your human agent could recommend a complementary purchase from the results; like toothbrush heads for the electric toothbrush they bought six months ago.
Real, helpful sales personalisation for all your customers.
[Are you interested in trying out the latest AI advancements in your contact center? Join the waitlist.]
Talk to customers in their language with Multilingual Chat.
Nach buille é nuair a bhfuil gach rud i dteanga nach labhraínn tú?
Especially in interactive customer service, like chatbots and live chat, being able to speak in your customer's language is essential, because let's face it, Google Translate doesn't work very well in chat windows.
Enter AI for Multilingual Chat. Whatever language your customer speaks, you can match their questions with your answers. It might not be a total replacement for native-level speakers, but when it comes to chatbots especially — this is a huge opportunity for your customer service.
For example, before, you would have to translate intents and answers manually — effectively retraining your chatbot for each language you wanted to support.
Now, advanced AI chatbots can be trained in one language, and understand intents and translate the relevant answers from that language to others. This means you only have to train your chatbot in one language, but can offer the same level of service in many languages.
This level of front-line automated customer service also makes it possible for you to examine all your customers language preferences and tailor your human customer service and sales teams to best serve your customers in their language.
The Pitch: Join the AI Waitlist to stay competitive in your sales and customer service
Contact centers are the first line for customer communication. In customer service, it's where you get the most immediate feedback, especially when things don't go right. In sales, it's about making that great impression and offering your customer the star treatment.
Either way, it can be challenging and time-consuming. But with the advancements we're developing at LeadDesk, it doesn't have to be.
We have a dedicated team of AI experts and developers, working on cutting-edge AI solutions for contact centers that will help you reconnect with your customers more quickly, and still make them feel valued.
If you don't want to miss out, join the AI waitlist now.